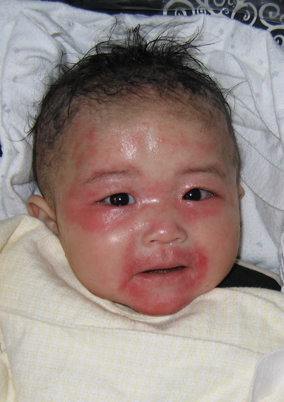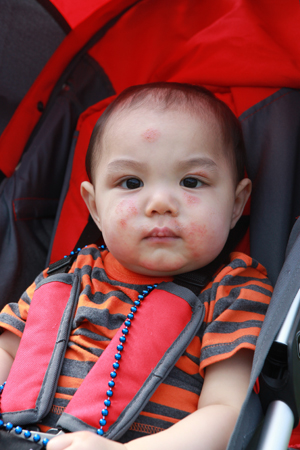 Itchy, swollen, dry skin, fluid-filled blisters, a red rash… does this sound familiar? These are the common symptoms of atopic eczema or atopic dermatitis, a skin condition which affects nearly 21 per cent, or one in five people in Singapore.
Atopic eczema is the most common form of eczema, an itchy skin disorder that can occur at any age. It is particularly common in babies and young children and can be caused by a combination of factors including a genetic predisposition, skin irritants, allergies, the environment and stress. Eczema is not infectious or contagious.
In the past few weeks, I've had several cases from my postpartum clients complaining about their baby's skin condition. This could be due to our recent weather condition as the effects of haze is mainly caused by the irritant effects of fine dust particles on the nose, throat, airways, skin and eyes. The health effects of haze will depend on its severity as measured by the Pollutants Standards Index (PSI). There is also individual variation regarding the ability to tolerate air pollution. Children, the elderly and especially babies in general are more likely to be affected.
When a baby's silky, smooth skin develops red, dry, itchy patches, the culprit is often eczema. Commonly appearing around 2 to 6 months of age, eczema (or atopic dermatitis) affects some 20 percent of infants and young children. If your baby's skin is itchy and irritated, the Alphanova Organic Skincare range is sure to help soothe baby's skin.
My daughter who is 4+ years old, had a recent bad episode of atopic eczema as patches of flared up redness of scaly skin appeared on her legs, elbows and face. 
I am glad to have found the Alphanova Organic Skincare range which has worked perfectly well when I used it to treat her skin condition. Since then, I've advised several of my clients of babies with skin conditions and the feedbacks on the products have been positive and favourable.
Step 1 - Stop using your usual baby's soap as this may be causing the dryness.
for your babies and children's daily shower or bath as this is a soap-free, 
hypoallergenic and certified organic foaming gel.
A natural rich formula with organic water lily, chamomile and nasturtium extracts.
Its concentration in moisturising vegetable glycerin and saponaria extract 
prevents the hair from drying out under the effect of hard water. 
For daily use, it doesn't sting the eyes and doesn't dry out the skin.
Leaves the skin and hair very soft, with a delicious clean baby scent.
Step 2 - When water rinsing is not possible due to extreme skin dryness.
any impurities and cleanse baby daily, especially at every nappy change.
This also can be used as a daily make-up remover for mum. 
It contains sweet almond oil, organic marigold and lily extracts for their moisturising qualities.
Hypoallergenic cleansing Milk for daily hygiene purposes for infants and babies with dry and very sensitive skin.
For Face – Body – Bottom ... No need to rinse off Natural* origin formula with organic ingredients.
The innovative use of Alphaprotect®, a patented natural ingredient, stimulates natural protection of baby skin.
Moisten cotton wool with the product, wipe away dirt and dry gently, especially the bottom and skin folds.
Step 3 - Next is to treat all affected areas and I call this the magic cream as her flared up, red
and scaly skin almost cleared up within minutes after the first application. Amazing!
A rich, unscented, certified organic cream for the care of dry and very dry skins. 
Its specific natural formula, enriched with organic calendula, can be used on all body
parts (face, hands, body...) to moisturise, nourish, protect and soothe damaged skins. 
Step 4 - For the maintenance of healthy skin to prevent flare-ups and itching,
moisturise daily twice daily to strengthen the skin against all kinds of irritants
These contain a patented natural ingredient AlphaProtect® to stimulate natural 
protection of baby's skin,organic sweet almond oil, glucerin, shea butter cotton
and chamomile extract for their moisturising and protective qualities.
For severe dryness, for atopic and rough skin damaged by cold. 
For mild or temporary dryness. For dry and sensitive skin. 
Moisturising lotion for the body. Treats extreme dryness.
For atopic, rough, dry and damaged skins.